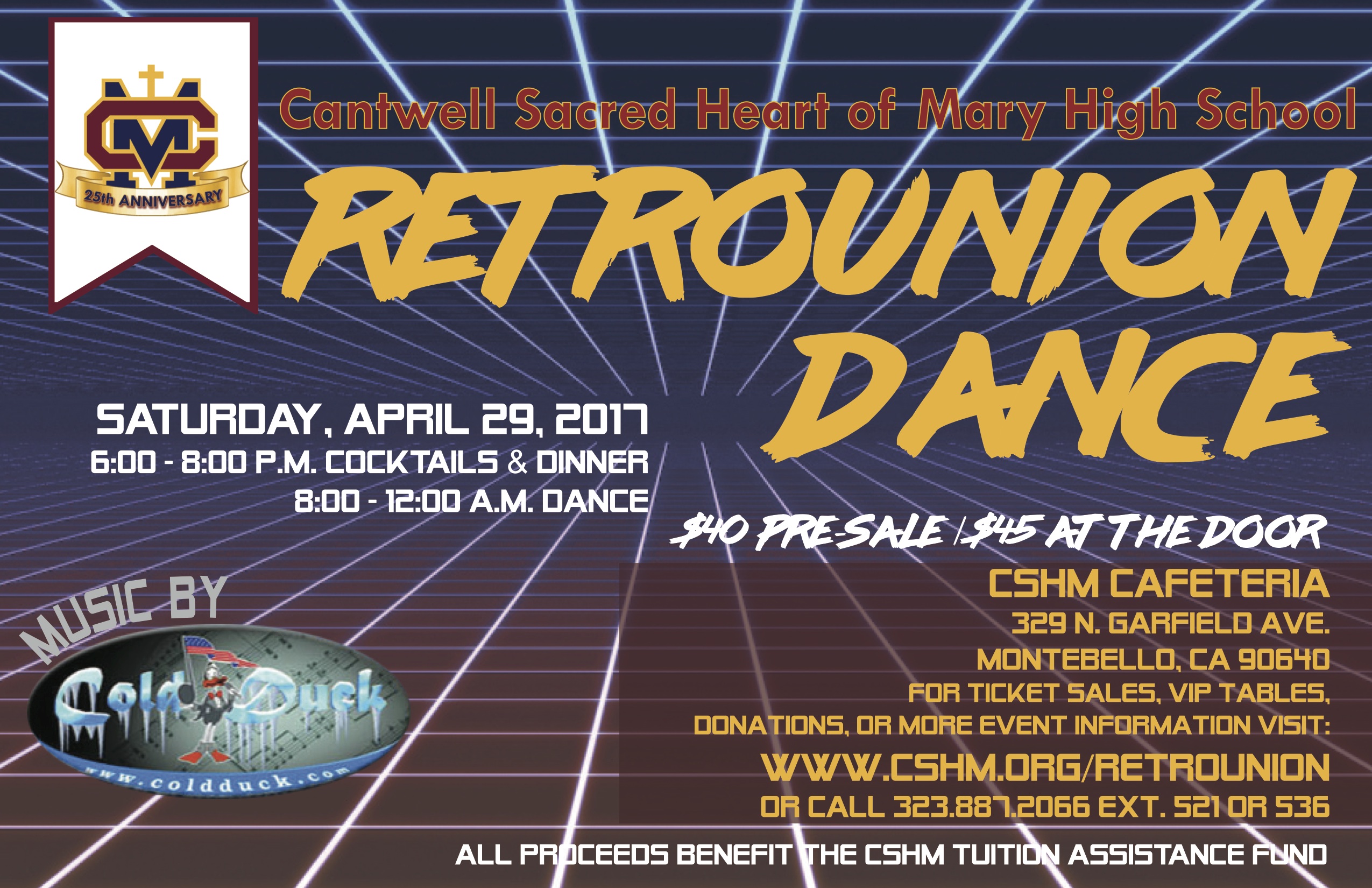 All CSHM, SHM, CHS alumni, parents, grandparents and friends are welcome for a night of fun, dinner, dancing, raffles, and silent auctions!
Tickets must now be purchased at the event or via phone at (323) 887-2066 ext. 521 or 536 using a Visa or MasterCard.
Checks are accepted made out to CSHM High School.
No physical tickets are provided. A guest list will be at the registration table.
Want a VIP experience? Here's your chance!
VIP Tables are $600
Includes:
Preferred seating for a table of 10
1 bottle of red wine
1 bottle of white wine
20 drink tickets
Can't come but want to donate?
Please download the pledge form below or make a donation to CSHM's tuition assistance fund at
ALL PROCEEDS BENEFIT THE CSHM TUITION ASSISTANCE FUND
Retrounion Dance Committee
Rebecca Ramos Velasquez '78, Chairwoman
Committee
Renee Fuentes Campa '70
Monica Cowan '83
Jonathan De Leon '07
Rose Ann Ramos Djelmane '74
Marissa Garcia, CSHM Director of Development
Lupe Garcia Farias '83
Daniel Harrigan '75
Julie Hernandez '82
Corrine Hernandez Jimenez '78
Amber McClarin, CSHM Marketing Director
Josie Baquera Mellen '76
Sister Angela Milioto, RSHM
Milton Navarrete '77
America Rios '95
Robert Rossier '78
Griselda Suarez '95
Michelle Velasquez '04
Wendy Young '76